We are glad to present the start of our 8-week Panel Reflections: Building a Virtuous Community programme on Wednesday 28th October at 9PM (GMT).
The topic around week 1 will be based on Spirituality and will aim to address the following areas:
What is spirituality? Why should I adopt spirituality in my life?
How can I be more spiritual in my life? What are some practices we can adopt in our lives to
increase our spirituality?
Who are some of the spiritual ones for us to learn from? Examples from Scholars?
When was spirituality in Islam developed as a discipline? What is the history of the domain?
Where do the spiritual ones dwell? Where can we find them?
Is there overlap/distinction between Islamic Spirituality and the spirituality of other faiths?
The panel will include our host, Sayyid Shabeer Kirmani with the guest speakers: Shaykh Shabbar Mehdi and Sayed Ali Khalkhali.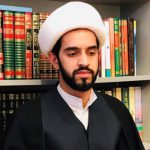 Sheikh Shabbar Mehdi was born and brought up in London. He completed his secular education from the University of London (SOAS) whilst simultaneously studying his preliminary hawza education. Sheikh then moved to the holy city of Qom where he currently is pursuing his postgraduate hawza Studies. He continues to teach a number of disciplines in the Hawza of Qom including Jurisprudence and Usul ul Fiqh. Sheikh is also a trustee for a number of religious and charitable organisations in the UK and Europe. He is also author of the work
'Shi'i Jurisprudence: development and growth'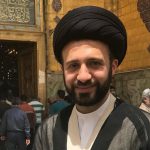 Sayed Ali Khalkhali successfully completed his Masters degree in Islamic studies in Islamic College, (accredited by the Middlesex University), London, under the supervision of Ayatollah Sayed Fadhil Milani, and studied in the Islamic Seminary (Hawza). A servant of the Ahlulbayt is what he wishes to remain as, and to serve at every level for the Ahlulbayt is an honour that we can never measure.